I got to be honest: I went into the theater to see Jab Tak Hai Jaan with absolutely zero objectivity! No matter what, I was determined to love this film, just for the simple fact that this is Yash Chopra's last film. It's the swan song of a legend...How can I NOT be prepared to LOVE it?
...and I think I did.
Jab Tak Hai Jaan is such an overwhelming film. Before sitting down to reflect on this film, I needed a 24 hour break to actually sit down and digest what I watched the night before. Undeniably, it was a romantic, heart-wrenching film but it could have been a classic, if only a few loose ends were tied up.
JTHJ is essentially the love story of Samar Anand, a struggling immigrant in the UK, who spends his free time singing "Challa ki labda phire" and works as a waiter in a restaurant. The jolly, fun-loving Samar falls in love with Meera Thapar, the ethereal beauty who steals his heart at first glance. After a passionate affair between the two, Samar gets hurt in a car accident, causing Meera to walk out of his life, in the belief that God is punishing Samar for her breaking her promise to keep her relationship with him strictly platonic. Samar, in angst and pain, goes back to India and becomes a Major in the Army, where he becomes a bomb disposal expert, putting his life at risk constantly as defiance against god. And...I'll stop there. Watch the film!
What I loved about the film:
First of all, Shahrukh Khan is love. In the past few years, my fondness for him had decreased significantly and his absence from films, like this, is precisely why! Romance is his forte! No one wants to see him beating up goons or play some video game villain. They want to see him romancing girls (or at least, I do!) and I challenge anyone who says that he isn't worthy of being a star, because his performance in this film is incredible. His pain and desire, as Samar Anand, was palpable and left me utterly stunned. If only he stuck to doing romantic hero roles! Katrina Kaif, as his lady-love, Meera, and Anushka Sharma, as the exuberant 21-year old working for Discovery Channel were also great in their respective roles. Katrina may not be the greatest actress of all time, but she sure did justice to her role and looked every bit the character she played and Anushka, as always, did a great job in her role, despite merely playing a catalyst to the lead pair.
The music and picturizations of the songs were superb, all thanks to the hugely talented A.R. Rehman and Gulzar. The music helped carry the film, whether it be the acoustics of "Challa" or the soft notes of "Heer". The lyrics were superb and meaningful and were placed in the film at exactly the right places. A.R. Rehman has this talent of making songs that sound so very lackluster when heard initially but become classic hits, after seeing them in the film. Pure Genius. And the direction of the songs was just fabulous. The "Ishq Shava" video had phenomenal choreography, with the best dancing I've seen Katrina or SRK do ever before and "Heer", such a beautifully written Punjabi song, was shot with equal depth; the lyrics of the song literally mirrored the actions of the characters, Meera and Samar. "Naal naal tur na te vith rakhna, haadh rakh lena, vich dil rakhna, chaave chaave paven assi tere parchaven tur na" was figuratively displayed on screen by the ingeniousness of Yash Chopra. The slow motion movements and heart-felt stares between the actors left me speechless during the song.
What I didn't love about the film: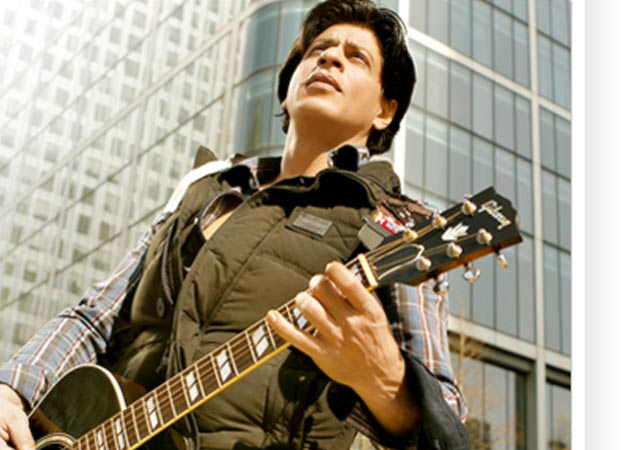 90s Shahrukh?! Yes, please!
The storyline was just so-so. Yash Chopra has always been great at illustrating sacrifice in his films, but the "sacrifice" in JTHJ was forced. Meera breaks away from Samar because she thinks God will punish Samar for her being with him?! Meera is supposed to be a modern, educated woman of today but she's more superstitious than the heroines in Ekta Kapoor serials...why? At one point, I wanted to get into the frame and slap the hell out of her! Her character...was just stupid. And the storyline was weak; it was able to suffice in making the premise for a romantic, heart-felt film, but it wasn't grand or "filmi" enough for Yash Chopra's last film. There was too much subtly in the idea of her making a "pact" with god. I wish they had some type of concrete reason for being separated....
Secondly, by the last half hour of the movie, I was anxiously waiting for the movie to end. To be honest, I'm old fashioned; I love a long three hour movie but only when the film demands it! JTHJ just stretched! There were at least two or three scenes that were unnecessarily added into the film and could have easily been edited out. If the run time was cut down to 2.5 hours, I'm sure the film would resonate even more with audiences and critics, alike. Even Anushka's character, Akira, was forced into the film. I understand that her character made for another dance number and a more commercial approach to the storyline, but Aditya Chopra could have written something a bit more for her character.
The more I think about the movie, the more I honestly do love it. Despite it's few flaws, Yash Chopra's last is a film that I see myself revisiting for years to come. It's the perfect ode to sacrifice, selflessness and wait that true love brings along with itself. And with the ending of this film, I sadly feel like this is an end of an era for Hindi cinema, as well. Will there ever be another filmmaker who will make pure Hindi romances, wrapped in classic Bollywood grandiose, like Yash Chopra did? Is this the end of a genre?
I unfortunately think so.
Thank you, Mr. Yash Chopra! Thank. You.